Features Howto Screens Download Troubleshooting
Please donate for further updates and improvements of this tool:
Wait this is against TOS! I could get banned!
Sure, you could. But do you really want to waste your time on repetitive actions or enjoy and play the game? I would have already stopped playing if not using a little help of this software. Besides, it does nothing else what a human (or monkey) couldn't do. I does not abuse, hook or alter anything like trainers do. It could work, move and click mouse much faster than human, but it doesn't. I have been using this for months myself and I can say it's pretty safe.
effective game progress
overcome boring tasks
emulates human actions – 100% safe
works in all browsers and different resolutions
read ingame text, works with different resolutions
Features
trade resources on market (earn thousands of goods without producing them)
visit pubs
motivate players
and more..
How to
Watch videos below to know how it works
Open game in web browser (Chrome, Edge etc.)
Run FOE clicker tool
Choose feaure, for shop open create offer like on the first screen, for help&pub have the game in normal state, like on the videos below.
set back and relax
Screenshots and videos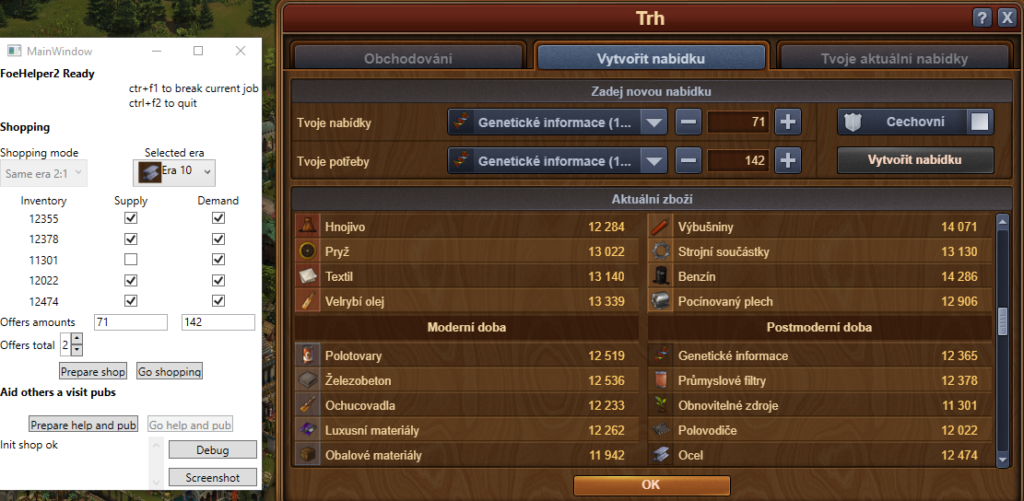 TroubleShooting